Thackerville's Past Litters

This page was started 4/4/2002 to show off puppies from past litters.  All the members of the Thackerville Retriever family are invited to submit photos of their pups.                

Sadie at 3 months old.

Daisy and Duke 2001

Princess Sadie Of Diamonds

This is Sadie at 3 months old. She is out of the 1st breeding of Daisy and Duke. 

Sadie is owned by Kim and Pat Burns. Kim says Sadie likes sneaking into the stadium to watch Pat play baseball and she's also the only girl allowed in the locker room.  Sadie will be starting some formal training this fall in preparation for future hunting trips.  With a great family like Kim & Pat, Sadie will have a wonderful life. 

Thank You!

I would like to take the time to welcome all the new members to the Thackerville Retriever Family.

William Thacker

Thackerville Retriever's

(863) 634-4844 FL

Dallas

I received Dallas on April 20th.  She has been a wonderful companion and puppy.  Her favorite activity is running and diving on her doggy bed.  She has "school" each day for about 5-10 minutes.  She already knows four commands: Sit, Come, Down, and Shake.  Training her on the leash has been successful.  Her morning and afternoon walks are great for her development and burning that high energy.  She has had a swim in Lake Norman and enjoys her small pool on hot days.  She is such a beautiful pup that everyone wants to receive those precious puppy kisses!  Thanks, Thackerville's Kennel's for such a great Lab!

Thanks again!

Pam Daniels

Rocky and his family           at the beach

     Dixie X Cody 2002

Mahi on the beach at her new home in Freeport, Bahamas

             Daisy X Duke 2002

Joe and Mahi

        2002

Three Southern Belles left to right Paityn, Bella and Graceson

Rosie X Duke

Chloe on her back deck waiting for lunch

Rosie X Duke

One puppy 2 shoes. Nothing good can come from this combination.

Abby (Duke X Rosie) Dallas (Dixie X Cody)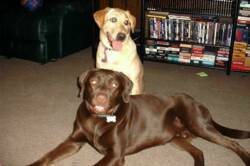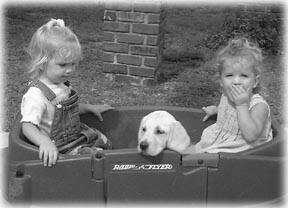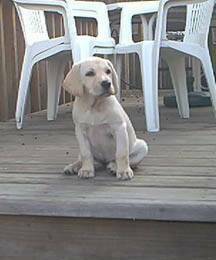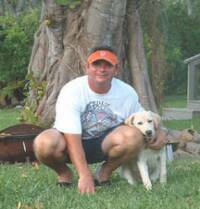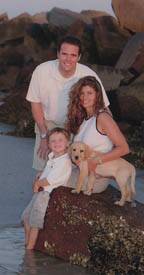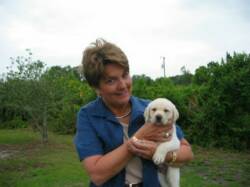 Brandon & Jessica (Gabi litter 2004)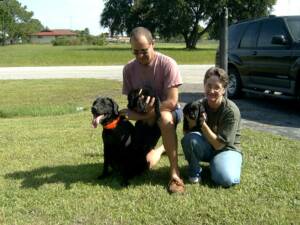 Kate and Bill with a mixed bag.  An Abby pup and a Gabi pup 2004 litters.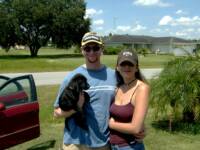 Alan  with an Abby puppy (2004)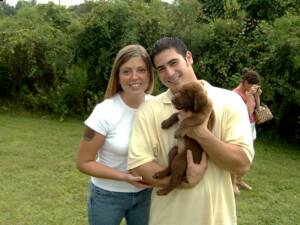 Jean Ann Domenic and Jasper (Gabi 2004)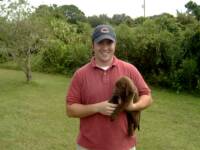 Glenn and a Gabi pup (2004)